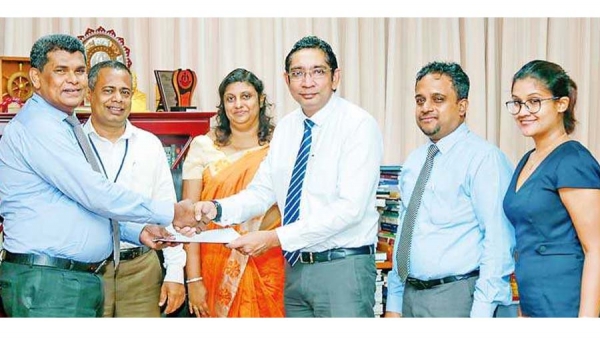 hSenid introduces new HRIS module to the University of Kelaniya
From left: Vice-Chancellor and Senior Lecturer Prof. D.M. Semasinghe, Faculty of Commerce and Management Studies Dean and Senior Lecturer Dr. P.N.D. Fernando, Department of Human Resource Management Head Dr. M.P.N. Janadari, hSenid Business Solutions CEO Sampath Jayasundara, Support and Professional Services Head Mahinda Pathirana, and Branding and Marketing Communications Manager Vichalya Wijesuriya
hSenid Business Solutions, a leading Human Resources solutions providers in Sri Lanka, partnered with the University of Kelaniya, a prestigious state higher education institution, adding a new field of study to their business curriculum.
The study of Human Resources Information Systems, an important tool in the field of HR was introduced as a part of their Business Management stream.
This partnership further amplifies the scope of the program, adding in strategic value to the study of Human Resources. The module aims to capture the essence of HRIS, encapsulating the complete automation of HR with Analytics and Artificial Intelligence driven HR Tech advancements. A partnership aimed at grooming future minds in the pursuit of building a strong business landscape in Sri Lanka that moves ahead globally with technology.
"It is a pleasure to partner with hSenid, the No. 1 HRIS Solutions Provider in Sri Lanka to make our educational programs high tech to suite the digital era," added University of Kelaniya Vice Chancellor Prof. D.M. Semasinghe. University of Kelaniya, a state university of Sri Lanka, located just outside the city limits of Colombo. Founded in the year 1875, the university has seven faculties and three institutions in seven locations.
"As a Sri Lankan company, we feel privileged to be working with the University of Kelaniya in introducing this new module to their program. We also feel honoured to be supporting the Sri Lankan higher education system further its reach in business and technology," added hSenid Business Solutions CEO Sampath Jayasundara. "I look forward to seeing the opportunities this partnership will create and to the positive impact it will make in taking young Sri Lankan minds to international grounds," he added.
hSenid Business Solutions is a premier global Human Resources Information Systems solution provider; specialising in holistic human resource applications both on premise and cloud based, HR services outsourcing and software development. Growing at a very rapid pace, hSenid is now operating from Sri Lanka, Australia, Singapore, India, Bangladesh and Africa. Since its incorporation in 1997, hSenid has acquired over 1,000 clients globally, across 18 industries from 35 countries, where over 400,000 users interact with its solution daily.
Source : http://www.ft.lk/hr/hSenid-introduces-new-HRIS-module-to-the-University-of-Kelaniya/47-680244