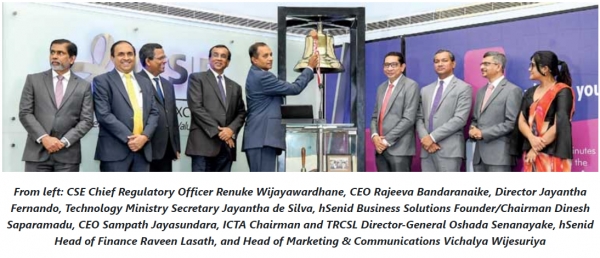 hSenid Business Solutions rings bell to debut trading on CSE


Top row from left: CSE Chief Regulatory Officer Renuke Wijayawardhane, CEO Rajeeva Bandaranaike, Director Jayantha Fernando, Technology Ministry Secretary Jayantha de Silva, hSenid Business Solutions Founder and Chairman Dinesh Saparamadu, CEO Sampath Jayasundara, ICTA Chairman and TRCSL Director General Oshada Senanayake, hSenid Head of Finance Raveen Lasath, and Head of Marketing & Communications Vichalya Wijesuriya.

Bottom row from left: hSenid Business Solutions Director Malinga Arsakularatne, NDB Investment Bank Chief Corporate Advisory Officer Nilendra Weerasinghe, hSenid Business Solutions Director Madu Rathnayake, NDB Investment Bank Director/CEO Darshan Perera, CT CLSA Group Chief Operating Officer/Head of Investment Banking Zakir Mohamedally, hSenid Business Solutions Directors Apurva Udeshi and Dishnira Saparamadu


The shares of hSenid Business Solutions Ltd., (CODE: HBS-N-0000) began trading on the Colombo Stock Exchange (CSE) yesterday.


The shares have been listed on the Main Board of the CSE under the 'Application Software' sector. The occasionwas marked with a special Bell Ringing Ceremony held at the CSE.


HBS saw 24.5 million of its shares change hands via 10,718 trades for Rs. 548.8 million. It closed at Rs. 21.20, up by Rs. 8.70 or 69.60% from its IPO price of Rs. 12.50.


Technology Minister Secretary Jayantha de Silva, and the ICTA Chairman and TRCSL Director-General Oshada Senanayake graced the occasion.


Representing hSenid Business Solutions Founder/Chairman Dinesh Saparamadu, Chief Executive Officer Sampath Jayasundara, Head of Finance Raveen Lasath and Head of Marketing and Communications Vichalya Wijesuriya joined the event.


The CSE was represented by Director Jayantha Fernando, CEO Rajeeva Bandaranaike, Chief Regulatory Officer Renuke Wijayawardhane and Head of Listings Vinduni Dullewe at the event.


The Managers to the Issue were represented by NDB Investment Bank Director/Chief Executive Officer Darshan Perera, Chief Corporate Advisory Officer Nilendra Weerasinghe, CT CLSA Holdings Group Chief Operating Officer/Head of Investment Banking Zakir Mohamedally.


CSE CEO Bandaranaike, speaking at the ceremony, congratulated hSenid Business Solutions on the success of the IPO and for the progressive step that the company has taken. "Today, is a special day because this is the first enterprise software company that is to list on the stock exchange. We are indeed happy that the stock exchange has been able to attract a technology company.


"You would no doubt agree that nurturing and elevating service providers in the IT BPM industry is of significant importance for the future growth of our economy. And public markets, I believe, play a key role in this process. Stock market is a place where wealth is created. Today, if you observe the Colombo stock market, you will see how shareholders of companies that are listed throughout this year have created wealth for themselves through capital gains. This, I believe, is the hallmark of a well-functioning market."


Speaking on the capital raising function at the CSE he added: "As of November this year, we have facilitated the raising of Rs. 118 billion through 35 new issuances in debt and equity including rights issues and private placements. A sum of Rs. 8.7 billion via 9 equity listings have been raised as of November 2021, and this, incidentally, is the highest capital raise in terms of equity listings for the last 10 years."


hSenid Founder/Chairman Saparamadu thanked the Securities and Exchange Commission of Sri Lanka (SEC), the CSE, the Managers to the Issue NDB Investment Bank and CT CLSA Capital.


He went on to say: "It's a historic day for hSenid group, as hSenid business solutions is the first company in the hSenid group to be listed in the Colombo Stock Exchange. It is also a historic moment for the IT industry in Sri Lanka. I am a strong believer that IT is the silver bullet for Sri Lanka, for us to have a double-digit growth in the next 3-5 years. It is not a normal way as in an economy sized $ 85 billion, the IT industry today stands at about 1.7 billion. But our vision for SLASSCOM is to become a $ 5 billion industry by 2025."


"For that vision, to get fusion, we need to build product companies. And I thought the IPO today would inspire other IT companies to come to the stock exchange to raise funds to be able to expand their business and go to international markets in the years to come."


Speaking on the IPO, he added: "The public that kept their trust in hSenid Business Solutions IPO, it's overwhelming. And I'm humbled and honoured to be able to take that trust that they kept on us and to deliver what we have put in our prospectus. Within the next couple of years, we should be able to be very proud that we actually stood up today and did this IPO."


With over 24 years of experience, hSenid Business Solutions strives to keep up as an indigenous multinational, taking care of over 1,000,000 users of 1300 organisations across 20 industries in 40 countries while operating from 6 countries. hSenid specialises not only in HRIS, but also caters to a wide spectrum of HR needs with Human Resource Outsourcing and Employee Tracking Solutions and Access Control.

Source : www.ft.lk